Welcome!
Check out what's going on in seventh grade math!
March 13 - March 17
Monday, March 13
Lesson: Tornadoes Performance Task

Assignment: Performance Task due Tuesday

Standard(s):

7.RP

.3, MP2, 7.EE.3, MP3
Tuesday, March 14
Lesson: Review of Angles

Assignment: RPJ 143 and Naming Angles due Wednesday

Standard(s):

7.RP

.3, MP2, 7.EE.3, MP3
Wednesday, March 15
Lesson: Chapter 7.1 Vertical and Adjacent Angles

Assignment:

Standard(s):
Thursday, March 16
Lesson: Chapter 6 Quiz and IXL in computer lab

Assignment: None

Standard(s): 7.RP.3, MP2, 7.EE.3, MP3
Friday, March 17 - NO SCHOOL - Conferences
Lesson:
Assignment:
Standard(s):
Click on the image below to access my classroom rules and procedures!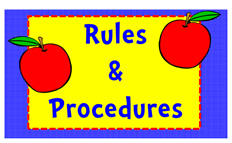 ***Lessons are subject to change. Check your child's agenda for daily lessons, assignments, and due dates. If you have any questions feel free to call, e-mail or send a message via Skyward.
***Corrections: All daily assignments can be corrected for half credit. This is an opportunity students can take to earn points back and improve both their grade and understanding of concepts. I am always available to help students with these corrections.