Scholarship Opportunities
Scholarship Applications
(click the links below -

Note: Pages will open in a new browser window. External pages are not endorsed by Mulvane School District USD 263.

):
Attention all Seniors: Please remember to give Mrs. Brown a copy of all scholarship award letters to be included in your Senior Awards Ceremony. Please make a note of which ones you are accepting as well.
Scholarship Opportunities…
Seniors Only…
Local Scholarships that will be presented at the Mulvane High School Senior Awards Assembly on May 20th, 2021.
Students may print, complete, and return forms to Mrs. Brown by the deadline noted on the form, unless otherwise stated. (For example: the American Legion application is mailed to the post or dropped off in person at the Legion post.) Please read forms carefully so you know when and how to submit them.
Kansas All-Star Scholars Fund: DEADLINE IS APRIL 17
Beginning March 15th starting at 10 a.m. CST, students who are planning to continue their education this fall are encouraged to go to www.KSAllStarScholarships.com and fill out the online application for a $1,000 scholarship. The deadline to apply is
April 17, 2021
at 11:00pm. In order to qualify, the student must be graduating from a Sumner County or Mulvane High School and have attended at least two years of high school in a Sumner County or Mulvane school district. Exceptions will be made by the Kansas All-Star Scholars Fund Board of Directors on a case-by-case basis.
Our software we use for the application has been updated and the look of the application and process has changed. I've attached a pdf of a step-by-step of how the new application will work. If you have any questions, please let me know. If possible, I encourage that the information in this email and the step-by-step be added to your school website under your scholarship information.
When filling out the application, the student will have to provide basic information like school, graduation date, contact phone number and email. It's very important that the student use a personal email address, not a school email, as we will need to contact them after graduation. The application will also ask what school they will be attending in the fall. This can be left blank for the time being, but will need to be filled in by September 3, 2021 and prior to the school receiving scholarship payment towards the students account.
It's incredibly important that students understand that before their classes start in the fall, they need to provide me with copies of an acceptance letter, full-time class schedule and student ID number. These documents need to be submitted by September 3, 2021. These documents may be conveniently uploaded right on the application website. They can also be emailed or mailed directly to me. My contact information is located below and on the scholarship website. We do not encourage faxing or dropping off the documents. Once I receive these documents, checks will be mailed directly to their post-secondary institution. The college will apply half toward the Fall semester and half toward the Spring semester.
The scholarships are non-competitive. Any student that we verify is a qualifying graduating senior will receive an award certificate. We will ask for your help in distributing these certificates at graduations and award assemblies.
Students with plans to enlist in the military don't have to miss out. They can provide proof of enlistment by September 2, 2019 and we'll hold their scholarship for up to 4 years and the same qualifications will apply (need class schedule etc., must be full-time student etc.).
I will have posters delivered via mail and drop-off to each school to start advertising the application dates. Please hang these in high traffic areas so the students are aware of the application dates.
Scholarships for the top 10%, valedictorian and salutatorian will be offered again this year as well. Please note the following guidelines for the added incentives:
If the school has more than one salutatorian or valedictorian, the school will be responsible for determining how the monies are divided, not the Scholars Fund board of directors. This division needs to be sent via email to Sonyajackson@boydgaming.com.
The added incentives will apply to all students who live within the Sumner County borders, even if they're required to attend a non-Sumner County school.
If a student resides in Sumner County but has elected to attend a school outside of Sumner County beyond their home school district, then that student would not be eligible for added incentives.
Gregory Fleming Memorial Scholarship

You will go to the following link and apply for this scholarship through the Wichita Foundation. You will sign up for access to their site. The deadline to apply is April 19, 2021.
Wichita Foundation - Gregory Fleming
---

2021 MULVANE OPTIMIST CLUB SCHOLARSHIP:

The Mulvane Optimist Club will offer four scholarships to the 2021 graduating class. They will award two $3,000 scholarships to students pursuing a Bachelor's Degree. They will award two $1,000 scholarships to students pursuing an Associate's Degree or attending a Trade School. The deadline to apply is May 1, 2021

Optimist Scholarship Application
---
James Sharpe Memorial Athletic Scholarship
This scholarship is worth $300 and has a rather simple application. The deadline to apply is May 3, 2021
James Sharpe Memorial Athletic Scholarship Application
---
Mulvane Alumni Association Scholarship
The deadline to apply is May 3, 2021
Mulvane Alumni Scholarship Application
---
Ted Powers Instrumental Music Scholarship
If you have been in instrumental music at MHS for four years, you are eligible to apply for this scholarship. It is valued at $300.
The deadline to apply is May 3, 2021
Ted Powers Memorial Scholarship Application
---
Spirit of 3 Scholarship
Please see the attached document that has specific instructions and information to help you complete this application. This scholarship will be easier to type up and return to Mrs. Brown in the Counseling Office due to the cover sheet and essay.
The deadline to apply is May 3, 2021
Spirit of Three Scholarship Application
---
Kona Ice Scholarship
The deadline to apply is May 3, 2021
Kona Ice Scholarship Application & Criteria
---
Robertson Sisters' Memorial Scholarship
The scholarship will be awarded to up to two students who submit the best essay. Essays are reviewed by a committee at MHS.
The deadline to apply is May 5, 2021
Robertson Sisters Scholarship Criteria
---
Dr. Brian and Gina Comer Scholarship for students wishing to study in a health care related field. The scholarship is called the Dr. Brian and Gina Comer Aspring Health Care Career Scholarship. Dr. Comer started this scholarship in the Spring of 2020 so it is relatively new.
The deadline to apply is May 5, 2021.
---
Delta Kappa Gamma Educational Scholarship:
The scholarship is valued at $500 and is open to students who plan to pursue a career in education. The deadline to apply is May 7, 2021
Delta Kappa Gamma Educational Scholarship Application
---
USD 263 Scholarship Application:
Submit your completed application, along with a cover letter, to Mr. Myers or Mrs. Jansen by 3:15 p.m. on Friday, April 16, 2021. No late applications will be accepted.
---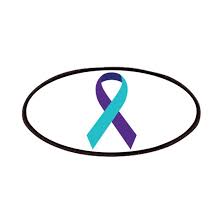 Keeton Suicide Awareness Scholarship Cleanup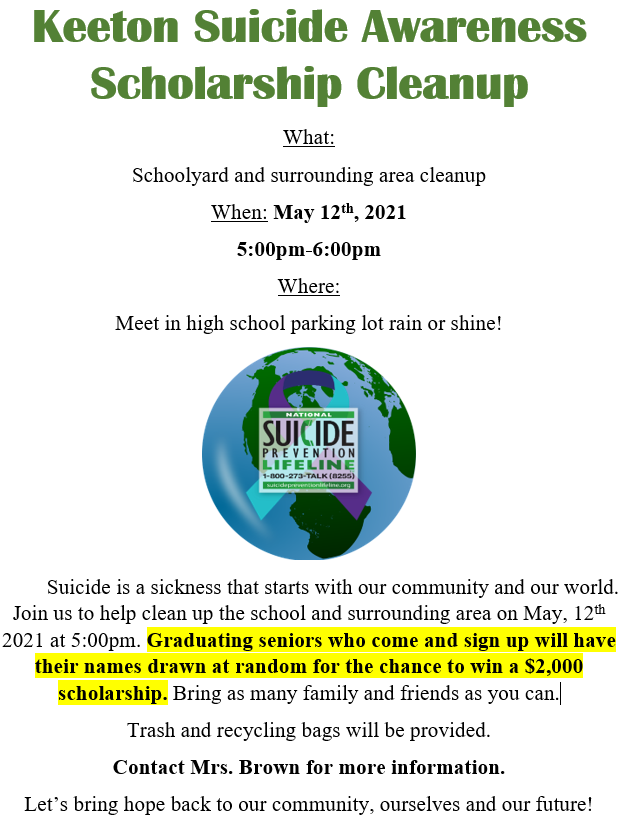 ---
INTERNSHIP OPPORTUNITY for Seniors:
Seniors,
Spirit is once again offering their summer internship program. You must be 18 by June 1st. See the flyer for details and a link for the application.
Spirit Internship Flyer with Application Link
---
Outside Scholarships available to Mulvane High School Students
***Seniors and Parents/Guardians:

I am getting questions about scholarships and what is available. Here is a list of scholarships that you can consider and apply for as you meet the criteria. I am also including a link to scholarship sites that are considered legitimate and safe. These are free website searches. If you run into a site that wants you to pay a fee, be cautious. You don't need to pay when there are others that are free. Here is a link to the scholarship search websites and a description of each.
**NEW**
List of Scholarships for April to June from StudentScholarships.org

https://www.collegerank.net/best-scholarship-websites/

This is the list of possible scholarships:
https://www.facebook.com/914265355287635/posts/2363499087030914?sfns=mo

Mrs. Teresa Brown
Junior/Senior Counselor
Students of Any Age…