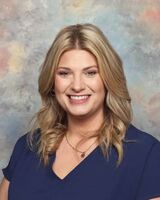 Brooke Carr
Welcome to MGS! I'm Brooke Carr. I teach 5th Grade here at MGS. This is my 2nd year of teaching in Mulvane. I'm a 2005 Mulvane graduate, and I earned my Bachelor of Science in Elementary Education from Newman University . I previously worked Sedgwick County as an Emergency Dispatcher and for the Department of Health. I have one daughter, who will also be in 5th grade this year!

I teach fifth grade math & science in Pride Parkway, and my teammate Mrs. Headrick teaches ELA and social studies. If your child is my class, please connect to our Class Dojo page for daily updates on what we're doing in 5th grade!

Feel free to email me at bcarr@usd263.org if you have any questions! I am excited to work with your student this year!!