Mulvane High School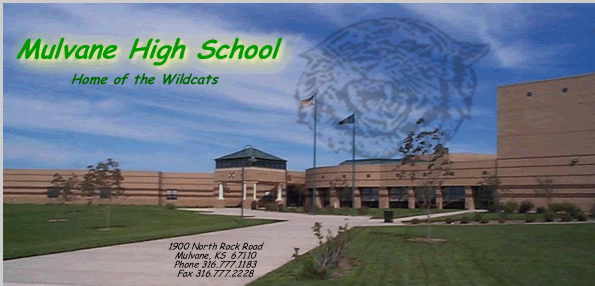 School hours
7:45am-3:00pm Monday, Tuesdays, Thursday and Fridays
8:45am-3:00pm Wednesdays
Important Information
See the daily announcements link for updated dates and events; Check the counseling link for scholarships, college visit dates and other important information.
This week at MHS
The bell schedule can be found on the family handbook link in the high school section on page 53 on this website (High School drop down menu)
September 16, 2014

3:00pm

MHS - G JV GLF @ Andover Central (Sierra Hills)

5:00pm

MHS - B JV SOC @ Augusta

5:00pm

MHS - G V & JV VB HOME
Mulvane, Wellington, Clearwater

6:30pm

MHS - B V SOC @ Augusta

September 17, 2014

8:45am

—

3:00pm

MHS - Late Start - Classes begin at 8:45 AM

September 18, 2014

MHS - JR Class Magazine Sales End

3:00pm

MHS - G V GLF @ Circle (ElDorado Prairie Trails GC)

4:00pm

—

7:00pm

MHS - Victory Vittles

4:30pm

MHS - XC @ Chaparral (Anthony Golf Course)

5:00pm

MHS - B JV SOC vs Circle

5:00pm

MHS - G F VB @ Wellington
Wellington, Eldorado, Mulvane, OPEN

6:30pm

MHS - B V SOC vs Circle

September 19, 2014

MHS - Registration deadline for ACT on 10/25/2014

2:35pm

MHS - Pep Assembly

7:00pm

MHS - Little Cheer Chicks perform during Halftime
Perform at 1/2 time of Football game

7:00pm

MHS - V FB vs Clearwater

September 20, 2014

8:00am

MHS - G JV VB @ Andover Tournament
---
Visit www.AVCTL.org and select Mulvane
for complete schedules, scores, and much more!
Sign up for updates to be sent to you
automatically when events change.
Click here for the: Parent Setup Guide
---
Are you a High Achieving Student?
Mulvane High School offers the following Advanced Placement and Honors Courses
AP Biology, AP Literature and Composition, AP Spanish, AP Calculus A, AP Statistics, AP American History, Honors Algebra II and Honors Geometry.
MHS also has a partnership with Cowley County Community College to offer the following Dual Credit College Courses:
Composition 1, Composition 2, College Algebra, Public Speaking, and General Psychology; other courses by arrangement second semester.(All subject to the classes "making"). MHS has also developed a partnership with Butler County Community College for the early health academy program.
---
Bullying Prevention and Reporting
Click on these Articles and Forms for Information
MHS Bullying Prevention Procedures
Bullying - Understanding the difference
CyberBully Hotline - Safe Anonymous Reporting
CyberBully Hotline - Case Study
CyberBully Hotline - Case Study 2
If you are a victim or witness to bullying, please report it to the administration.
Don't stand by and let it continue.