Mulvane High School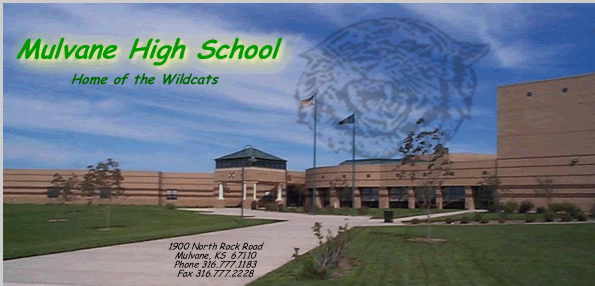 Mulvane High School, 1900 N. Rock Road, Mulvane, KS 67110
Phone 316.777.1183 Fax 316.777.2228
School hours
7:45am-3:00pm Monday, Tuesdays, Thursday and Fridays
8:45am-3:00pm Wednesdays
Important Information
See the daily announcements link for updated dates and events; Check the counseling link for scholarships, college visit dates and other important information.
This week at MHS
The bell schedule can be found on the family handbook link in the high school section on page 53 on this website (High School drop down menu)
Time

Event

Details

Comments

08:30am

4th Grade Practice For Music Program

Mulvane High School - Auditorium

09:30am

Bowling:Girls Varsity State

TBA @ North Rock Lanes

TICKET SALES,, CENTER ADMITTANCE:

General admission tickets will go on sale at the following times:

8:00AM Thursday, March 5 (5-1A Girls' Tournament)

12:30 PM Thursday, March 5 (5-1A Boys' Tournament)

NOTE: Each tournament will require a separate ticket

ADMISSION PRICE:

Adults = $6; Grades K-12 = $5

SAVING SEATS FOR OTHERS IS NOT PERMITTED!

OUTSIDE FOOD/DRINK NOT ALLOWED:

Spectators MAY NOT bring outside food or drink into the Bowling Center.

NOISEMAKERS NOT ALLOWED:

Noisemakers ARE NOT allowed in the Bowling Center.

CELL PHONE /ELECTRONIC DEVICES:

Spectators are asked to refrain from using cell phones in the immediate spectator seating area. Spectator cell phones should be turned off or placed on vibrate.

COACHING BY SCHOOL COACH ONLY:

Per KSHSAA rules, during competition bowlers may only be coached by their school coach.

Bowlers who receive advice from anyone else are subject to disqualification.

FLASH PHOTOGRAPHY/PICTURES:

Flash photography is not permitted during competition. Picture-taking opportunities will be available during & after the awards ceremony.

2:00pm

Bowling:Boys Varsity State

TBA @ North Rock Lanes

See information above for the Girls Tournament

6:00pm

Basketball:Boys Varsity Sub-State
vs Wellington @

Winfield High School

6:15pm- 9:15pm

MHS Spring Production Rehearsal

Mulvane High School - Auditorium

7:00pm

4th Grade Music Program

Mulvane High School - Auditorium
Visit www.AVCTL.org and select Mulvane
for complete schedules, scores, and much more!
Sign up for updates to be sent to you
automatically when events change.
Click here for the: Parent Setup Guide
---
Are you a High Achieving Student?
Mulvane High School offers the following Advanced Placement and Honors Courses
AP Biology, AP Literature and Composition, AP Spanish, AP Calculus A, AP Statistics, AP American History, Honors Algebra II and Honors Geometry.
MHS also has a partnership with Cowley County Community College to offer the following Dual Credit College Courses:
Composition 1, Composition 2, College Algebra, Public Speaking, and General Psychology; other courses by arrangement second semester.(All subject to the classes "making"). MHS has also developed a partnership with Butler County Community College for the early health academy program.
---
Bullying Prevention and Reporting
Click on these Articles and Forms for Information
MHS Bullying Prevention Procedures
Bullying - Understanding the difference
CyberBully Hotline - Safe Anonymous Reporting
CyberBully Hotline - Case Study
CyberBully Hotline - Case Study 2
If you are a victim or witness to bullying, please report it to the administration.
Don't stand by and let it continue.