What's Happening at MHS
Mulvane High School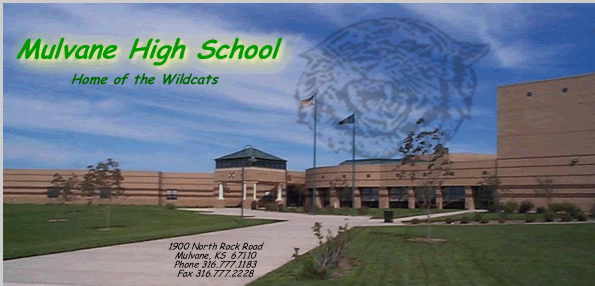 Mulvane High School,

1900 N. Rock Road,

Mulvane, KS 67110
Phone 316.777.1183

Fax 316.777.2228
MHS School Hours: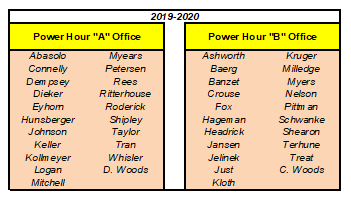 Important Information
Check the Counseling Center link for scholarships,
college visit dates and other important information.
This week at MHS
Please login to www.AVCTL.org and select "Mulvane" for the current calendar of events.
Click here for the link to the lunch menu
All school activities and athletics are cancelled through May 29, 2020. All facility rentals are cancelled as well. Please watch your email and our Website, Facebook and Twitter for updates.
Dear Parents & Guardians of MHS Students,
As notified, our school building will remain closed through May 29, 2020. Life has changed, for all of us, so quickly and drastically, and this change is difficult to process, both logistically and emotionally! In the middle of all of this change, please know that we love your students and we are working to help them learn and grow through this tenuous time! Our school building may be closed, but learning is not cancelled. We have good work yet to do!
From March 23-April 3, we are focused on setting up for learning at home. Here's what to expect:
Electronic Communication Updates: As we are no longer in the building, our communication will be electronic. Please log into SkyWard Family Access and click on the Skylert tab. Check the information that's listed and make necessary updates. Make sure that general and survey are marked to receive all messages. We will also communicate through the Mulvane High School Facebook page. Click here to access a list of email addresses for MHS Faculty & Staff.
Curbside Pick Up & Drop Off March 25-27: Come by the high school to pick up your student's personal possessions from the school and drop off any school owned items such as Library books or other materials. Come by MHS at your convenience on Wednesday from 8:00-3:00, Thursday from 12:00-7:00pm, and Friday from 8:00-3:00. Please bag up items that need to be returned to the high school, make note of where they need to go if necessary, and put your student's name on the bag.
Free Meals Available: Beginning on Tuesday, March 24th, Food Service is offering grab and go meals on weekdays to all children between the ages of 1-18 at no charge. A drive through pick up is available at MGS and buses will be stopping at multiple locations in our district. Visit the USD 263 Food Service page for more information.
Completion of Make-Up Work: Students need to complete make up work and assignments that were assigned prior to spring break. Students should begin by checking their grades in SkyWard, their email, and Google Classroom. Email teachers if you have questions.
Organizing for Learning at Home: Beginning March 30th, Advisory lessons will focus on organizing for virtual learning. Students will receive more information from their Advisors. Also, Dual Credit College Courses that were offered at MHS (College Algebra, Comp 2, AP Lit) will resume on March 30. As we progress, students will need to check email, Google Classroom, and Grades daily.
First Ever Virtual Spirit Week: Thank you to Student Council for putting together a spirit week for us!!! Information is attached.
Looking forward, students can expect to resume their classes on April 6th. Teaching and learning will look different, but our goal of helping each student prepare for success after high school remains the same. We'll take this one step at a time, supporting our students along the way.
Thank you for working with us as we persevere through this challenge!
Glenda Cowell, MHS Principal
A PDF of this letter is attached. March 22 Parent Letter.pdf


Visit www.AVCTL.org and select Mulvane
for complete schedules, scores, and much more!
Sign up for updates to be sent to you
automatically when events change.
Click here for the: Parent Setup Guide
---
DID YOU KNOW? WHAT YOU CAN DO
• Students should miss no more than 9 days of school each year to stay engaged, successful and on track to graduation.
• Absences can be a sign that a student is losing interest in school, struggling with school work, dealing with a bully or facing some other potentially serious difficulty
• By 6th grade, absenteeism is one of three signs that a student may drop out of high school.
• By 9th grade, regular and high attendance is a better predictor of graduation rates than 8th grade test scores.
• Missing 10 percent, or about 18 days, of the school year can drastically affect a student's academic success.
• Students can be chronically absent even if they only miss a day or two every few weeks.
• Attendance is an important life skill that will help your child graduate from college and keep a job.
Make school attendance a priority
• Talk about the importance of showing up to school everyday, make that the expectation.
• Help your child maintain daily routines, such as finishing homework and getting a good night's sleep.
• Try not to schedule dental and medical appointments during the school day.
• Don't let your child stay home unless truly sick. Complaints of headaches or stomach aches may
---
Are you a High Achieving Student?
Mulvane High School offers the following Advanced Placement and Honors Courses
AP Biology, AP Literature and Composition, AP Spanish, AP Calculus A, AP Statistics, AP American History, Honors Algebra II and Honors Geometry.
MHS also has a partnership with Cowley County Community College to offer the following Dual Credit College Courses:
Composition 1, Composition 2, College Algebra, Public Speaking, and General Psychology; other courses by arrangement second semester.(All subject to the classes "making"). MHS has also developed a partnership with Butler County Community College for the early health academy program.
---
Bullying Prevention and Reporting
Click on these Articles and Forms for Information
MHS Bullying Prevention Procedures
Bullying - Understanding the difference
CyberBully Hotline - Safe Anonymous Reporting
CyberBully Hotline - Case Study
CyberBully Hotline - Case Study 2
If you are a victim or witness to bullying, please report it to the administration.
Don't stand by and let it continue.