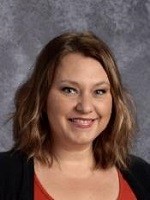 1007 Westview Dr. | Mulvane, Kansas 67110 | 316-777-0151 | FAX: 316-777-2798
Regular School Hours: 7:50 AM-3:05 PM - Doors open at 7:30 AM
ECH/PREK AM Session: 7:50 AM-11:05 AM
ECH/PREK PM Session: 11:50 AM-3:05 PM
Wednesday Late Start School Hours: 8:50 AM-3:05 PM - Doors open at 8:30 AM
ECH/PREK: No School on Wednesday
Jenifer Smith, Building Principal
Dear MPS families,
As the new principal of Munson Primary School, I am both honored and excited to become a member of this great school community. Since coming on board, I've had the opportunity to learn about the school from leadership, staff and community members. I am humbled by a shared purpose which has guided my own leadership: a relentless commitment to putting children at the center of our work in education.
I've been fortunate to have worked with children spanning Pre-K through 6th grade. In that time, I have learned that our purpose as educators is to address gaps in students' learning, support challenges that are beyond their control, and motivate them to aspire to greatness. I was attracted to MPS because its mission aligns with my core belief for all students to have a quality education that effectively meets their emotional and academic needs.
I look forward to learning with you and from you this year. We will continue to review and develop the educational program so that it continues to raise the bar for students, academically challenging and engaging each student by linking what they're learning in school to knowledge and experiences that matter most to them. I have been inspired by the strong collaboration and commitment to student learning within the Mulvane school district. Together, we can ensure that we are all learning and growing for our number one priority: Doing what is best for OUR children/students!
It is with a strong commitment that I am joining Munson Primary, and am looking forward to leading and learning together as a community.