Theatre

MHS Theatre Department Slide Show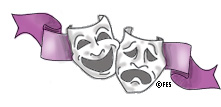 The Mulvane High School Theatre Department
is pleased to announce the 2018 Fall Musical...
Fall Musical - White Christmas Nov. 15, 16, 17
The Mulvane High School Theater Department presents White Christmas on Thursday, Friday, and Saturday November 15th, 16th, and 17th at 7:30 pm in the Mulvane High School Auditorium. Tickets are $5.00 for adults and $3.00 for students. Advanced sale tickets are available now from jmitchell@usd263.org and rjansen@usd263.org. You may also send orders with payment through interoffice mail if you plan ahead and allow time for delivery . Checks payable to MHS. Tickets will be available at the door as long as we don't sell out. It is a huge show with eighty-eight people involved. Please join us for this classic holiday musical!
This holiday season, discover the perfect gift for everyone on your list! Start with a timeless tale of joy and goodwill, fill it with classic Irving Berlin songs, top it off with glorious dancing and lots of snow and come see Irving Berlin's White Christmas! It's a must-see classic in a lavish musical that The New York Times says to "put on your wish list." Irving Berlin's White Christmas tells the story of a song-and-dance team putting on a show in a magical Vermont inn and falling for a stunning sister act in the process. Full of dancing, laughter, and some of the greatest songs ever written! Give everyone the gift they're dreaming of with this merry and bright holiday musical.